The Honourable Louise Arbour is a Senior Counsel. She provides strategic advice on litigation, governance and international disputes. She is an active mentor of younger lawyers.
She completed in December 2018 her mandate at the UN as Special Representative of the Secretary-General on International Migration, which led to the adoption of the Global Compact for Migration. She has also held other senior positions at the United Nations, including High Commissioner for Human Rights (2004-2008) and Chief Prosecutor for The International Criminal Tribunals for the former Yugoslavia and for Rwanda (1996 to 1999).
She formerly sat as a justice of the Supreme Court of Canada from 1999 to 2004, on the Court of Appeal for Ontario and the Supreme Court of Ontario. She chaired an inquiry commission that investigated events at the Prison for Women in Kingston, Ontario, and has also served as a member of the Global Commission on Elections, Democracy and Security. In 2021 she was appointed to carry out a review into the Canadian Armed Forces and Department of National Defence, in response to reports of harassment and sexual misconduct within Canada's military.
Madam Arbour also formerly served as an ad hoc judge in the International Court of Justice and as a member of the Advisory Panel to the Minister of Defence on Canada's Defence Policy Review. She is currently a member of the Global Commission on Drug Policy, the International Commission Against the Death Penalty and the Advisory Board of The Coalition for the International Criminal Court.
Madam Arbour has received numerous honorary doctorates and awards. Most noteworthy, she has been a Companion of the Order of Canada since 2007, a Grand Officer of the Ordre national du Québec since 2009 and a Commander of the Légion d'honneur. She has been decorated by Spain, Colombia and Belgium. She was also awarded the 2021 Goler T. Butcher Medal by the American Society of International Law.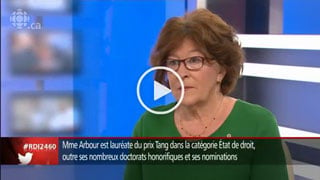 Louise Arbour interviewed after being named laureate of the 2016 Tang Prize (starts at 8:00 — French only)