Every fall brings back an uplifting tradition at BLG, as our global effort to support United Way sees members from our five offices jump in and outdo themselves. With regional initiatives to focus on and a variety of entertaining activities to make the experience fun, our fundraising approach engages everyone towards a common goal, from Vancouver to Montréal.
A number of local organizing committees greeted new members this year, welcoming into the fold fresh perspectives. The results speak for themselves, as our 2022 firm-wide campaign raised over $620,000 and counting.
United Way: countless ways to even the odds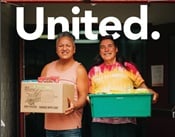 It remains a winning advantage for United Way to keep such close eye on the social fabric from coast to coast and allocate resources where they are most needed as they evolve in real time. The variety of causes it embraces in over 5,000 Canadian communities makes the organization a clear choice for everyone who gets involved, regardless of their BLG office location.
As first-time volunteer and Toronto articling student Moussa Hamadani puts it: "People show enthusiasm in standing by communities as BLG members, especially in these tough times. The demands the pandemic put on households and individuals have created so many needs, nowadays even more so with inflation and the cost of living. In the end, you're only able to help people with the help of people."
Helpful people at BLG: they make it happen year after year
The 2022 initiatives relied on a mix of old favourites and novel ways of raising funds, across the entire firm.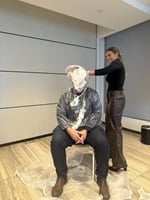 In Montréal, long-time United Way champion John Godber found himself surrounded with all new faces on this year's committee. Says newcomer Emily Findleton: "United Way is a charity I've supported for almost twenty years; it's great to have the opportunity to continue at BLG." Two successful draws with very attractive prizes were organized to entice people to contribute.
In Ottawa, local highlights included carnival mini-games and a bake sale, as well as daily draws for new donors, but also a lunchtime speaker from Women United to discuss regional issues, bringing the point that much closer to home. "We had a lot of fun organizing all this and it was quicker to put together than I thought," according to first-time volunteer Chris Shorey.
In Calgary, Lauren Morrissey has been volunteering since 2017 and she feels that even though WebEx and other platforms make remote participation possible, "in-person events are what people want, they're way more engaging." She first became involved because she saw a chance to put her organizing skills to good use, and firm members had lots to choose from in 2022, including a live Family Feud game and a popular 'Pie-a-lawyer' event.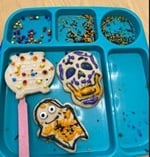 In Toronto, besides the ever-popular silent auction boasting a record-breaking outcome, a flurry of events also included a presentation by local chef Gordon Brown, who discussed how United Way had been there for him in his time of need.
Finally, while raffles, draws and a silent auction all made their way into the program in Vancouver, it was the virtual cookie-decorating activity that had everyone intrigued. It allowed firm members to share the campaign with their entire family, something that the hybrid approach made possible.
To all BLG members who organized, volunteered, donated or otherwise contributed to this year's campaign, wherever you are: thank you!