In recognition of International Women's Day and our continuous commitment to empowering women and uplifting our communities, throughout March and April, lawyers, BLG team members and clients came together to give back to those in need in the spirit of International Women's Day.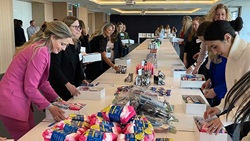 Through these events, over 400 personal care kits have been packed and donated to the Elizabeth Fry society in Ottawa, 500 backpacks were packed for Backpack Buddies to be distributed in communities across British Columbia and over 100 shoeboxes were packed in Toronto for the Shoebox Project. Additionally, a group of BLG'ers helped make soup with Soup Sisters in Calgary to deliver to emergency shelters, with more soup making events planned for later in April.
BLG is proud to bring lawyers, firm members and clients together to make tangible contributions to our communities. We appreciate our employee and client contributions to these events, and we look forward to more opportunities to come together and give back to important initiatives.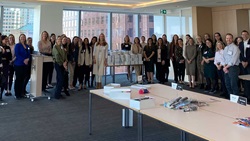 "I was invited to several events in relation to International Women's Day from other firms that we work with. Your event was the only one I wanted to attend because it was something different and it had meaning for someone in need." – BLG client and International Women's Day event attendee.
In addition to these events in recognition of International Women's Day, BLG is passionate about supporting women in business and leadership including through our Driven By Women™ initiative which provides a space for women to connect, share ideas and support each other. Founded in 2016 by an entrepreneurial second-year associate, the program has expanded its focus from local start-ups to provide a national cross-industry platform.
To see more about our community involvement initiatives follow us on LinkedIn and Instagram.