This year, we know the need in our communities is greater than ever. In response, BLG redoubled efforts to support United Way by establishing a national approach and co-ordinating efforts and resources across the country.
Earlier this fall we reconnected with United Way local representatives in our five cities to ensure our members could help some of the most pressing causes, from an increase in senior citizen isolation to spikes in local poverty.
We also issued a firm-wide challenge to rally firm members in each of our five offices virtually in an effort to raise awareness and donations. The five offices also held intense fundraising activities of their own, organized by their local committees.
With our combined efforts, BLG raised $660,000.
Here are some of our regional highlights:
Vancouver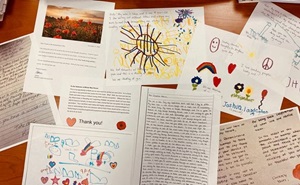 Vancouver rallied together "in order to help United Way of the Lower Mainland and their mission to serve the needs of our local community," wrote Emily Galer, BLG Vancouver's HR director.
The Vancouver committee added a new element this year: a letter writing initiative, which focused on veteran senior citizens in the community who are currently isolated. Members of the firm delivered cards and letters to all the veteran seniors residing at Whole Way House, which serves the residents of The Veterans Manor neighbourhood in Vancouver.
The veterans received the correspondence on Remembrance Day morning as a bagpiper played in their outdoor foyer.
Calgary
A highlight of Calgary's campaign included hearing virtually from United Way Kick-Off Impact Elder Patrick Daigneault (a member of the Circle of Aboriginal, International Association of Public Participation and the Canadian Council for Aboriginal Business). Elder Daigneault spoke to BLG members about being taken from his home and placed in a residential school. He also relayed extensive knowledge of his Cree cultural and spiritual teachings.
Toronto
BLG Toronto members participated in a number of fundraising activities that concluded with an event featuring the United Way's Wali Shah — a South Asian speaker and poet who has inspired thousands through his work as an artist-educator. We also heard from 12-year-old Grace, a SickKids Patient Ambassador who, together with her parents, shared her story of courage and perseverance.
Ottawa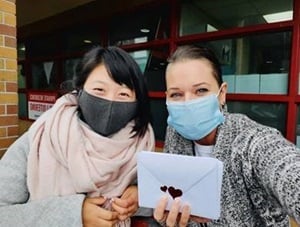 Ottawa's members chose to raise funds for three priority United Way programs: All that Kids Can Be, From Poverty to Possibility, and Healthy People, Strong Communities.
"Our Ottawa office's United Way campaign gave us a platform to virtually connect and give back ... I am proud to work with colleagues that came together to give back to our community in a different way this year," wrote Jamison Young, an Ottawa-based partner in the commercial real estate group.
Montréal
BLG's Montréal office focused on a Stay Active challenge, which encouraged firm members to get out and about (running, walking or biking), from Oct. 26, 2020 to Nov. 6, 2020, while keeping track and sharing the kilometres covered. The Montréal office matched every kilometre with a donation to Centraide of Greater Montreal.
"In Greater Montréal, one person in seven benefits from our fundraising," wrote BLG partner Gabriel Lefebvre to his Montréal colleagues. "A major benefit of giving to Centraide is that it invests the funds where the needs are the greatest and adapts its strategies to the realities of each neighbourhood.
---
*Photos of some of the heartfelt cards and letters from the members of the firm (and their children) as well as a photo of the delivery to Whole Way House.