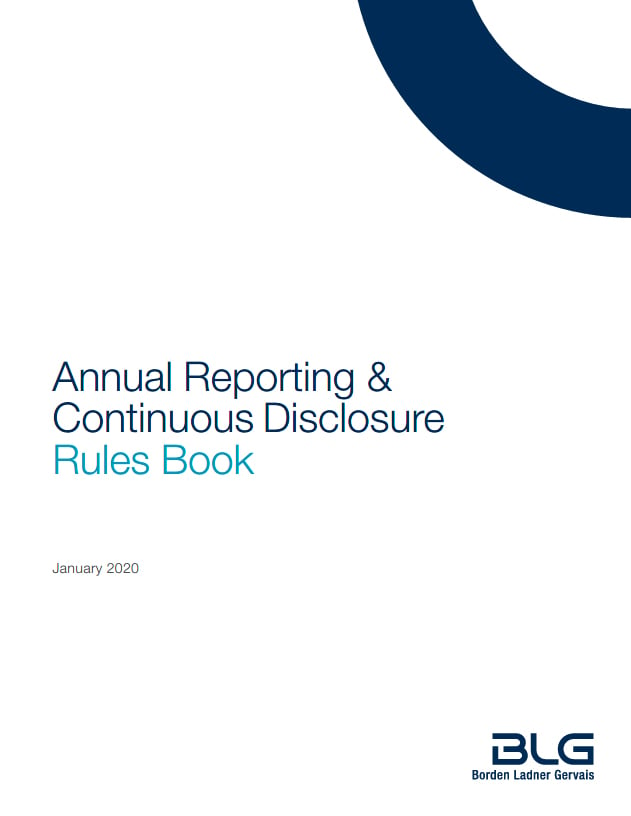 BLG is pleased to share our securities law resource, Annual Reporting & Continuous Disclosure Rules Book, our compilation of the relevant securities law instruments and stock exchange rules with respect to:
continuous disclosure documents including the management information circular, annual information form, Management's Discussion and Analysis and financial statements;
corporate governance disclosure; and
proxy solicitation for your annual meeting.
The Annual Reporting & Continuous Disclosure Rules Book also includes:
the most recent proxy voting guidelines for 2020 published by proxy advisers, Institutional Shareholder Services Inc. and Glass Lewis & Co.; and
the policy on board gender diversity (published in 2018) and the best practices for proxy circular disclosure (published in 2019) by the Canadian Coalition for Good Governance.
Download BLG's Annual Reporting and Continuous Disclosure Book
(PDF, 105 MB)
This publication includes amendments in effect as of January 31, 2020 and does not reflect proposed amendments not yet in force.