The Sensor: Legal Insights into Autonomous Vehicles
January 29, 2021
PERSPECTIVE
Autonomous vehicles: Moving forward in 2021
In 2021, we expect the Autonomous Vehicle (AV) industry to become increasingly part of daily life in North America through public transit pilots, driverless taxis, truck platooning and drone delivery. However, while government attention is needed to develop regulatory frameworks for the widespread deployment and rapid evolution of the AV industry, we expect the pandemic to hinder this process. In this article, we highlight key trends we expect will mark developments in the AV industry this year.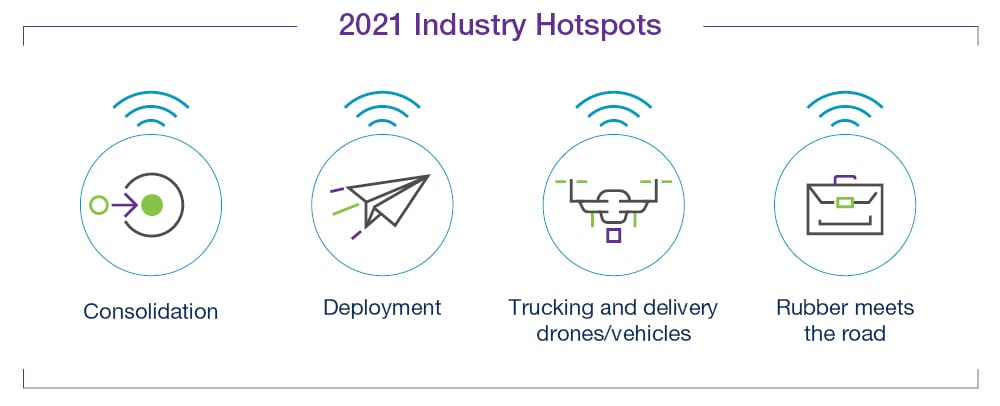 Industry hotspot: Consolidation
In May 2020, the CEO of Intel's Mobileye, Amnon Shashua, said he expected to see a "great consolidation" in the AV industry, which proved to be correct as a wave of consolidation continues to sweep through the AV industry. A significant series of such consolidations took place in 2020, including most notably, Amazon's acquisition of Zoox and the Aurora Innovation's acquisition of Uber's Advanced Technology Group.
This trend is likely to continue in 2021 due to the continuing development and push towards large-scale deployment of AV, which becomes more technically complex, expensive and interrelated with other AV components and systems. In particular, some industry insiders have suggested that this year may bring significant changes to the Light Detection and Ranging (LIDAR) ecosystem.
As a reference, we can look back to the previous era of great consolidation during the infancy of the North American automobile industry in the early 20th century, when more than 80 different carmakers consolidated into the "Big Three" by 1929. Developments in 2021 may provide us with insight into whether or not the AV industry is headed in the same direction.
Passenger AV hotspot: Deployment
Despite the COVID-19 pandemic causing significant disruption for a number of industries, there still appears to be a growing appetite, in both public and private transport, for ambitious deployments and pilots of passenger AV vehicles.
In public transport, an example of these ambitious deployments is the Toronto Transit Commission and Metrolinx agreement with Local Motors by LM Industries. As part of the city's Autonomous Vehicles Tactical Plan, the city intends to begin a six to 12 month pilot of autonomous shuttles in 2021. Similar pilots continue to take place around the world and we expect to see even more announced in 2021.
In private transport, it is predicted that there will be an increasing number of publicly available AV taxi pilots/services. In October 2020, Waymo announced a publicly available driverless taxi service in Phoenix, Arizona, and early industry adopters and investors will watch any such pilots or services closely to determine if this attempt at deployment and commercialization proves palatable to the public and profitable.
COVID-19 has also introduced the issue of biosafety, a fundamental new concern for policymakers and the public when considering passenger transit options. Current trends away from public transport systems may drive discussion, development and deployment of mass autonomous transit systems.
Non-passenger AV hotspot: Trucking and delivery drones/vehicles
Trucking has consistently been one of the most active sectors of the AV industry and we expect this to continue in 2021. Active truck platooning pilots are underway around the world and more ambitious and autonomous truck platooning pilots are likely to appear. In particular, the continued rollout of 5G, improvements in AV technology, and the policy changes in key jurisdictions make the introduction of higher SAE level trucks and "automated following" truck platooning increasingly likely this year.
As noted above, COVID-19 has introduced the concept of biosafety, not only affecting passenger transportation but also delivery services, which has expedited the development and adoption of autonomous delivery drones/vehicles. Leading organizations have already received FAA approval to launch and operate autonomous air delivery drones in the United States. We expect to see significant and ongoing development of the air-delivery drone sector in 2021 as the issue of biosafety and the increasing volume of home deliveries drives demand for the service.
Similarly, we expect the same needs will drive the continued deployment of autonomous "delivery robots" which will use existing public roadways and sidewalks. The continued impact of the COVID-19 pandemic, including extended lockdowns in many jurisdictions (meaning empty or emptier sidewalks and streets) and the need for innovative biosafety solutions to facilitate home delivery, may provide an opportunity for the adoption of delivery robots.
Policy hotspot: Rubber meets the road
As outlined above, we predict it will be an active year in the AV sector with ongoing developments in autonomous taxis, shuttles, trucking and drone delivery. This has the potential to be the first year in which AVs interact with the public on a regular basis in North America. The AV industry requires government engagement to help facilitate and regulate the growing role and deployment of AVs. While COVID-19 is driving demand for AV deployment, it is also likely to keep policy-makers occupied with more pressing COVID-19 related concerns. We will be sure to closely monitor both private and public policy and regulatory proposals in key jurisdictions as they develop over the course of year.